At Hargreaves Industrial Services the health and safety of our people and the people we work alongside, is fundamental to everything we do. Safety is how we do business.
Our aim is Zero Harm, to both people and the environment, to ensure everybody gets home safely every day. It is a leadership responsibility and management priority to continually strive to achieve our vision and we foster a culture in which safety, health and welfare are everybody's top priorities.
We are committed to providing a safe work environment and we expect our employees to work proactively to eliminate all risks.
Our safety culture is underpinned by documented and accredited management systems. We hold externally recognised accreditations for our management systems which are audited on a regular basis both internally and externally.
At Hargreaves we believe in staff engagement in safety and we have implemented several safety initiatives to underpin this belief.
Our safety brand is always evolving, and the initiatives shown are just some of the ways we achieve this;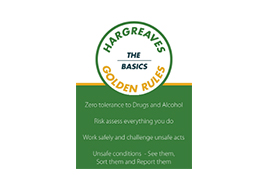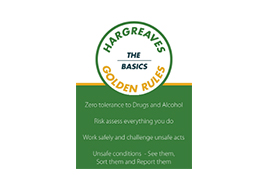 Golden Rules
Hargreaves has developed fundamental underlying principles which support all our safety management systems and drive our safety culture.
These principles are our 'Golden Rules' and are defined as follows:
Zero tolerance to Drugs and Alcohol
Risk assess everything you do!
Work safely and challenge unsafe acts
Unsafe conditions – See them, sort them and report them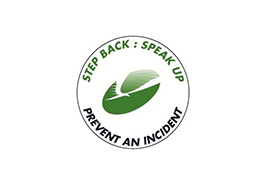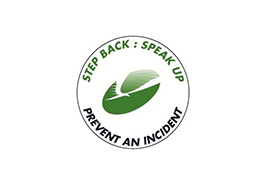 Step Back: Speak Up – Prevent an Incident
Step Back: Speak Up was created by a working group involving site managers from across our organisation and is Hargreaves' own behavioural safety brand. It clarifies our approach and expectations for all persons working for and alongside Hargreaves' activities. It is a strong message that is recognisable by employees and clients alike.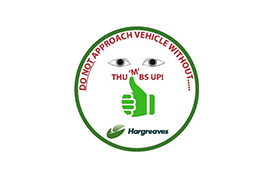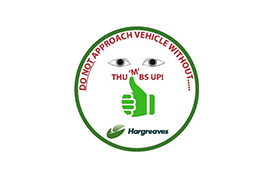 Vehicle & Mobile Plant Safety
A significant amount of Hargreaves' operations involves working with various items of mobile plant, all of which could potentially cause serious injuries or fatality.
Our "Thumbs up" safety initiative is designed to create a safe environment for anyone wishing to gain access to area where mobile plant is operating.
This is a visual indication to show that the operator is aware of your presence in the area and can mitigate your movements.